Having recently watched the absolutely beautiful
Downton Abbey
(BBC, but
coming soon
to a television set near you!) I was reminded of my love for late Edwardian fashion.
Also know as the Belle Epoque, this era lasted from the very late 1800s up until World War I and was loosely categorised by it's teeny-tiny hand-span waists and puffed 'mutton chop' sleeves.
I think the period which I find the most beautiful and fascinating stretched just beyond this, loosely contained in the 10 years between 1908 and 1918.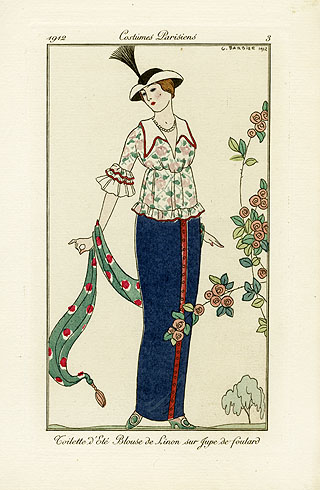 Toilette d'Ete by George Barbier
Upheaval was rife in all areas of life - industrialisation was well under way and modernisation inevitable, women were poised to get the vote, gone was the bustle and the
s-bend corset
(awful!) and for women sillouhettes had become more true-to-life.
The Deliniator and McCall's Magazine, popular fashion Magazine's from 1913
Clothing had a playfulness about it and a sense of practicality in the flattering draping. Colours were cleverly matched in a cacophony of muted and rich hues and softer fabrics were favoured.
Toilette de garden-party by Victor Lhuer (top) and Robe a retroussis by Gerda Wegener
Costumes Parisien, 1913 and 1914
from: Panteek
As for hats; gone were the heavily embellished, wide brims of the late 1800s. These essential accessories were smaller in size, but heavy on the decoration; feathers, birds, flowers and ribbon were all used to great effect. In fact, many of the more outlandish feather trims I have restored to use in my pieces were made in this period!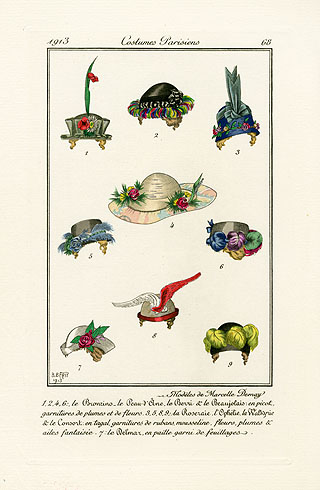 Modeles de Marcelle Demay by B. Berty
Costumes Parisiens, 1913
from: Panteek
The three Crawley sisters of Downtown Abbey
Ah yes, the delicious
Downton Abbey
. Set in 1912 and concluding just as the War has been declared (although a 2nd season is being filmed as I type!) it is truly an aesthetic delight.
In fact, beyond the odd spot of meddling and brief love affairs, the women of the house seem to do little more each day than get dressed several times!
Oh! If only.
xo
g&j