We recently stumbled across the stunning ceramics from
Dawn Dishaw
whilst scrawling through pages of ceramics on
Etsy
on search - once again - for the perfect mug.
We had that rare quick fluttery-heart leap which makes trawling through pages and pages (and pages and pages) on
Etsy
so worthwhile. Eventually you will unearth the gold!
The delicate hand drawn patterns, the slightly chunky lip, the mottled slight-grey of the ceramic base, the perfectly chosen colour combinations...
And then we delved into her bowls. Bowls used to be our
real
ceramic weakness. For years they were hoarded, some too nice to ever be used. Some to simply hold flowers, some to hold one variety of fruit each and muddled in a haphazard way on the kitchen counter.
Bowls are still a weakness...especially when they're all scalloped edged and delicately patterned like this: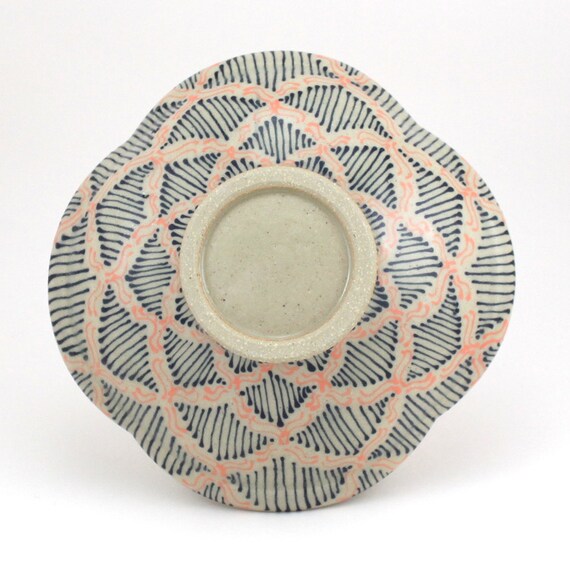 Underneath detail of Ceramic Bowl in navy and salmon pink - $52
Each wheel thrown piece is a labour of love with the whole beautiful process from the painstaking hand drawn patterns to the series of glazes taking between one and a half to a staggering 12 hours to complete.
Now the impossible decision has to be made...which mug?
And, naturally, to take advantage of combined shipping, which bowl...
xo
g&j